Suggested Docking Location for the Gaza Cruise Ship Flotilla:     The Grand Palace Hotel, Gaza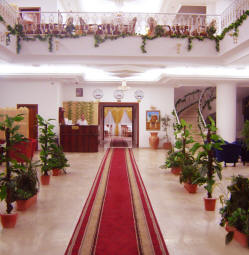 (Quoting their website and photos)

    Opened since 2004, Grand Palace is one of the best hotels in Gaza city. Built to exceed customers expectation as it is located at the beach side of Gaza city with the direct beach view, the hotel welcomes its guests.

    The distance between the hotel and the city center is approximately 3 km in a quiet peaceful area, where the reach to the city center is easy, while nothing is better than a 5 minute walk to the beach.

    The hotel depends on his services on high level staff who are selected accurately with high qualification in hospitality that makes us the favorite between the establishment.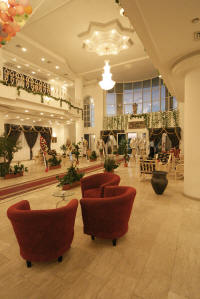 Due to the usual electricity cutoff, the hotel is provided with 2 high level generators to keep the customers comfortable.

Press Room

Our Mission:

    Our mission is to exceed customers expectations and be a leader in the hospitality market in Gaza as well as being the a good challengers Internationally.
      Our Notes: This 5-star hotel is located on the beach in Gaza, so it makes a great place for the flotilla ships to dock. Due to the humanitarian needs in Gaza, this hotel is in desperate need of tiny umbrellas to go into mixed drinks, as well as fresh caviar to be served to hotel guests on the beach. It is vital, therefore, that the Gaza flotilla ships arrive in a timely manner and must not be delayed by Israeli ships.

The ambience of this hotel is in jeopardy, proving the need for Flotilla Cruise Line!!!!

Considering this beach-front hotel, South Beach, Florida needs a humanitarian aid flotilla too!  
freeisrael reblogged this from garbanzotoons